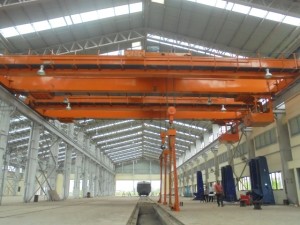 The Electric Overhead Traveling cranes that we manufacture are probably custom made in accordance to your requirements. These include:
SINGLE GIRDER & DOUBLE GIRDER EOT CRANES.
Range: 500T capacity.
These EOT cranes are designed and manufactured for your company as per Indian Standard Specifications for cranes: IS-807-1999 and IS-3177-2006.
We've swimmingly Designed, Engineered; supplied & commissioned hundreds of EOT cranes systems including single girder, double girder, overhead, underslung, etc. cranes up to 500T capacity for a wide range of industries like: Power, nuclear, shipping, steel plants, cement plants, etc.
Single Girder & Double Girder 3T to 100T, upto a Span of 36.0M or above.
PROPERTIES:
Easy to erect.
Utmost rigidity with less dead weight.
Close-packed, compact dimensions, light weight and thus easy to operate & maintain.
Product package consists of assistance with the installations, safety instructions and training for operations and maintenance, as well as inspection services & support after sales.
A 500 mm wide access walkway is provided along with Drive Girder.
The modular design forms a very efficient, compact & visually aesthetic unit.
Well tried out &Fuse less circuitry, with clean wiring.