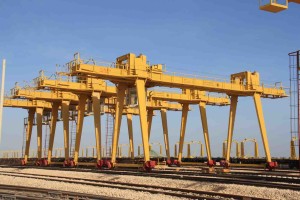 Krane Mfg (I) Pvt. Ltd. Designs and Manufactures Goliath Cranes and Semi-Goliath Cranes as per custom manufacturing demands from our customers for various industrial applications like Shipping, Construction, Power, Material Handling, Water Gate Handling, etc. Depending on the capacity & application.
SINGLE GIRDER, DOUBLE GIRDER GOLIATH & SEMI-GOLIATH CRANES.
Range: 500T capacity.
These cranes are designed and manufactured for your company as per Indian Standard Specifications for cranes:

IS-807-1999 and IS-3177-2006.